DUAL FORCE submersible basket mill is an outstanding ultra-fine and energy-efficient grinding machine for batch-type milling process. this unique system is designed to take advantage from the double force: separate drives for grinding and mixing. The special design allows to optimize product circulation inside the vessel taking care of different flow behaviours without changing the grinding maximum allowed speed.
Micro-ball immersion basket mill
Immersion mill for the production of paints, inks, ceramic glazes, pharmaceutical products, cosmetics and chemical.
Pressurized self-cleaning micro-ball mill
For products with a high pigment concentration such as colored pastes for dyeing systems and products that are difficult to grind.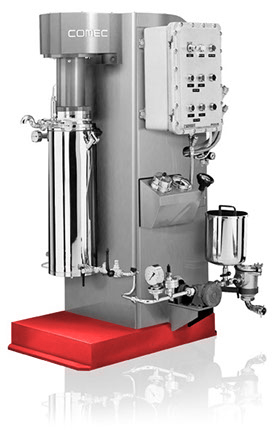 It allows to carry out high vacuum milling (from 10 to 0 microns) for general products as enamels and paints, inks, dyes, nail polish and lipsticks.