Double working power immersion basket mill
Dual Force submersible basket mill is an outstanding ultra-fine and energy-efficient grinding machine for batch-type milling process. this unique system is designed to take advantage from the double force: separate drives for grinding and mixing. The special design allows to optimize product circulation inside the vessel taking care of different flow behaviours without changing the grinding maximum allowed speed.
Micro-ball immersion basket mill
For the production of paints, inks, ceramic glazes, pharmaceutical products, cosmetics and chemical.
Pressurized self-cleaning mill
For products with a high pigment concentration and difficult to grind.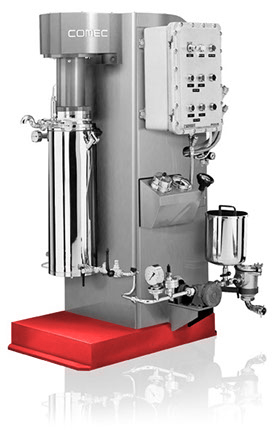 High vacuum milling (from 10 to 0 microns) to refine enamels and paints, inks, dyes, nail polish and lipsticks.
The product being mixed in the upper chamber is drawn into the lower refining chamber where micro-milling takes place thanks to the movement of a set of balls. The finess of the final product depends on the time the product spends moving repeatedly from one chamber to the other.
Industry 4.0 configuration is guaranteed by a management software and customer management interface.
A PLC connected via industrial Ethernet network to all actuators, sensors and process devices and via Ethernet safety network to all safety devices allow the complete command and control of the system and the management of diagnostics, alarms and safety. The integrated use of all the devices and interfaces for the insertion and management of information allows to have a system constantly updated in real time and at the same time to archive and make the process statistics available to the KPI supervisor, in order to optimize all the variables involved in the production process, from time to raw material consumption, from energy consumption to the optimized management of production stops for cleaning and maintenance operations.
The system guarantees a remote assistance service to assist customers around the world on a 24/7 basis.