Double working power immersion basket mill
Dual Force double working power immersion Basket Mills are outstanding energy-efficient and ultra-fine grinding machines.
This system is designed taking advantage of the double force of two independent engines with separate drives for grinding and mixing. The special design allows to optimize product circulation inside the vessel taking care of different flow behavior without changing the grinding maximum allowed speed.
Equipped with an energy-efficient grinding chamber and two lateral agitators, they can grind large batches up to 1500 lt and reduce total energy consumption, grinding time and the number of microspheres used compared to similar machines.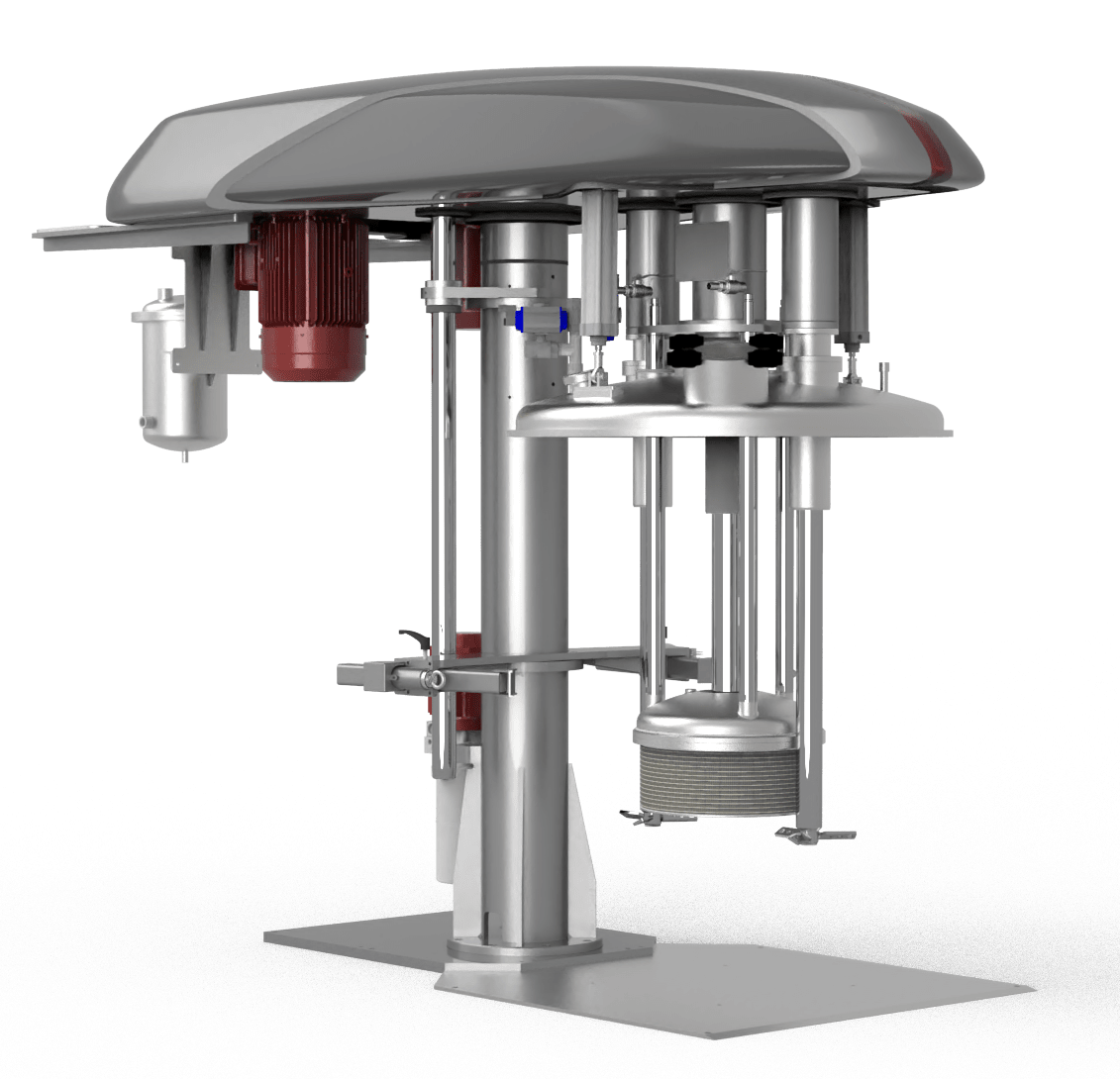 Innovative technology enabling industry 4.0 that optimizes business processes in terms of management time, costs and quality
Continuous process control thanks to internal PLC
Total integration with the production flow and the company ERP
Efficient recipe management, high product repeatability and reduction of production waste
Minimization of breakdowns and unwanted downtime by predictive maintenance indicators
Remote assistance for immediate customer support
Larger batches with low engine power (1000 L with 30 kW)
Processing products with a wide range of viscosities
Grinding time reduced by up to 50%
Simple mounting, easy to maintain and inspect
Fine grinding and narrow particle size distribution
Cleaning time reduced by 60%
Energy savings of up to 40%
70% fewer microspheres
Coated grinding chamber for controlled temperature processing
AISI 304 stainless steel supporting structure with anti-vibration reinforcements
High thickness base plate to fix the machine to the floor
Rectified and chromed steel telescopic head holder column
High thickness sheet metal head with anti-vibration reinforcements and pulley protection casings
Transmission by belt and pulleys
Hydraulic lifting unit with electric pump embedded in the command group
Head ascent stop with safety device
Shaft support with high performance ball bearings
AISI 304 stainless steel main grinding shaft
Two AISI 304 stainless steel lateral mixing shafts
Two AISI 304 stainless steel mixing impellers
Efficient cooling cavities without hot spots
Product temperature control sensor inside the grinding chamber
Wear-resistant electro-weed mesh milling chamber with different peg impellers
Electronic speed variation with inverter
Also available in ATEX version
Vessel locking system:

Adjustable belt: characterized by a support with adjustable saddles and tensioning ratchet. Possibility of fixing containers with different diameters
Fast Clamping: characterized by easy entering of the vessel, fast locking and high resistance to lateral loads. Manual locking clamps with safety micro-contact for machine start only when the container is blocked
4.0 Industry
Configurations
Industry 4.0 configuration is guaranteed by a management software and customer management interface.
For Industry 4.0 Ready installations we provide internal PLC for industrial process control, intuitive operator touch interface and Ethernet connections
For customers choosing Industry 4.0 Optional installation, we provide:
Wi-Fi Operator control panel
Router for remote assistance
Latest generation Misura software which includes Predictive Maintenance indicators, OEE indicators, panel with digital pointers and Software interface with customer Enterprise Resource Planning (ERP) system
Paints, car finishing, inks
Colored and concentrated pastes, pigments for tannery
Plastic materials, gelcoats
Food products, agrochemicals
Dual Force Success Stories
Case history: American Customer
"Dual Force cut down our total cycle time to less than half, without experiencing higher temperature.
Thanks to Dual Force we also saved 65% of energy consumption per batch, becoming more competitive and drastically improving our lead time to market".
Case history: European Customer
"We apply Dual Force on industrial coating, where margins are tight and time- and cost-savings are a must. Dual Force is very efficient compared to standard basket mills, it sets a new standard for the coating industry".