Symbiosis of dispersion and milling
Micronet two-in-one dispersers and mills with microbeads are machines for a fast and effective refining from 10 to 0 microns, suitable for all the composites normally produced by the paint, lacquer and chemical industry, even with a high pigment concentration.
The system allows the possibility of preparing the mixture in the milling chamber.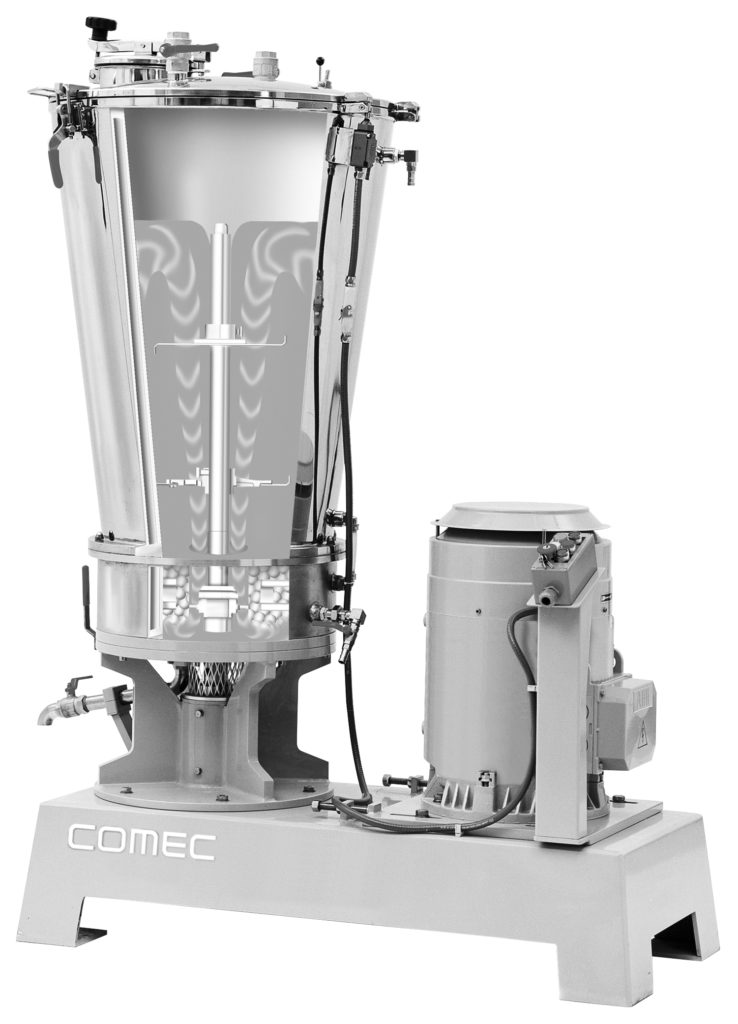 Its original design allows two-in-one dispersion and grinding process
The process starts with liquids loading from the top, after dry pigments are added with the mill running at low speed
Once the pigment is dispersed the Micronet can be set to high speed for the milling
The product is continuously recirculated between the upper dispersion basket and the lower grinding chamber for the time needed to reach the desired fineness
At the end of the process, the product is discharged by gravity from the outlet equipped with manual ball valve
The product being mixed in the upper chamber (1) is sucked and pushed into the bottom refining chamber (2) in which a charge of moving microbeads micronizes it. The product recirculates continuously between the two chambers: the fineness required depends on the time the product spends moving from one chamber to the other. Each machine is provided with a timer system for setting the duration of the refining process for each particular product. The repeatability of the formulations is guaranteed by the non-stop rotation of the product and by the machine's timer function.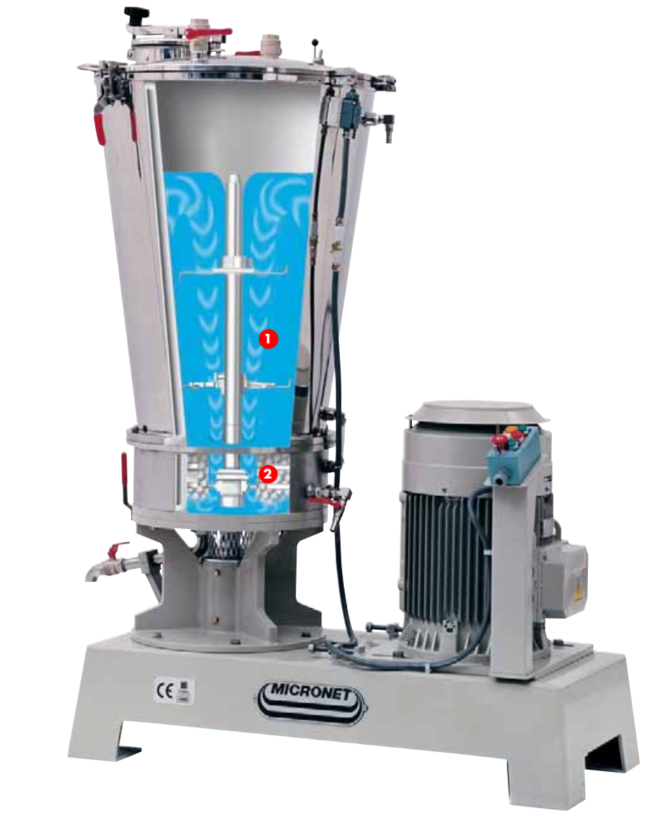 Conical or cylindrical upper mixing chamber with Cowles and Turbo-type impellers made of polished AISI 304 stainless steel for quick washing
Milling chamber in wear resistant steel complete with grinding impeller, turbine and filters for microbeads retaining
Single shaft operates the movement of the Cowles and the grinding impeller equipped with ceramic mechanical seal
External wall equipped with cavities for cooiling through forced circulation of water
Microbeads discharge cap and product discharge value mounted on the bottom of the cylinder
Thick steel base frame complete with direct or V-belt transmission with increased performance
Electric equipment with double speed motor
Work-cycle timer for automatic stop
Micronet Technology for the Cosmetics Industry
Dedicated equipment is suitable for many applications for a stable dispersion of oils into water, for adding pigments and glues and for mixing colorants into products including small batch products like nail lacquers.
Over the years, we have concentrated our efforts on developing and continuously improving a must-have for cosmetic products manufacturers: Micronet.
An important process step in the manufacture of cosmetic products is mixing and dispersing: the development of Micronet technology has created the ability to disperse and mill at the same time, leading to a reduction of the cycle and halving cleaning operations, without giving up to a fast and effective refining. The most significant benefits can be measured in a reduction of downtime and increase in productivity.