Self-cleaning in-line mill
MecMill self-cleaning pressure-type immersion Mills are machines for grinding products with a high concentration of pigment such as pigmented pastes for tinting systems and products that are difficult to grind.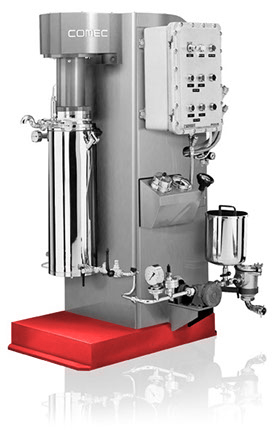 Easy flow adjustment according to the product
Extremely easy and fast cleaning: the self-cleaning system allows the transition from one tint to another without the risk of pollution and with an extremely small amount of washing liquid
Perfectly sealed milling basket able to prevent any solvent evaporation
Effective milling and easy cleaning thanks to the reduced space in the milling chamber
No need for surveillance
Steel bearing structure with anti-vibration reinforcements
Transmission by trapezoidal belts or coaxial
Milling tool composed by grinding shaft in coated steel made with impellers and special spacers in compound material
Cooled milling basket made of special wear resistant steel with double cooling jacket developed throughout the surface of the basket and the bottom and top of the ground product drain
Product filtering and unloading system for the optimal separation of the microspheres from the ground product, which eliminates the problem of residual microspheres
Volumetric feeding pump with adjustable output by mechanical motor variator
Radial mechanical seals for maintaining pressure inside the mill
Cooling water flow and consumption controllers
Vessel locking system:

Adjustable Belt, characterized by a support with adjustable saddles and tensioning ratchet. Possibility of fixing containers with different diameters
Fast Clamping, characterized by easy entering of the vessel, fast locking and high resistance to lateral loads. Manual locking clamps with safety micro-contact for machine start only when the container is blocked

Electronic speed variation with inverter
Also available in ATEX version
Thermometer with PT 100 probe mounted on the product output nozzle, connected to the thermostat with two adjustable set points for opening or closing the cooling water valve
Diaphragm pressure gauge with two adjustable set points for turning off the mill in case of unwanted overpressure or lack of suction product
Automatic thermostatic ON/OFF valve for cooling water placed in the back of the mill
Main shaft speed control inverter and power pump
Control and safety system for automatic operation
4.0 Industry
Configurations
Industry 4.0 configuration is guaranteed by a management software and customer management interface.
For Industry 4.0 Ready installations we provide internal PLC for industrial process control, intuitive operator touch interface and Ethernet connections
For customers choosing Industry 4.0 Optional installation, we provide:
Wi-Fi Operator control panel
Router for remote assistance
Latest generation Misura software which includes Predictive Maintenance indicators, OEE indicators, panel with digital pointers and Software interface with customer Enterprise Resource Planning (ERP) system