Semi-automatic filling line
Veloce is a semi-automatic gravimetric filling machine used for small tins of water and solvent based products from 5 to 40 kg packaging. The dosing head provides a precise and over time consistent batching, facilitating container washing operations. Made of anti-wear materials, it can also be used with abrasive products.
It can deliver up to 3 units/min.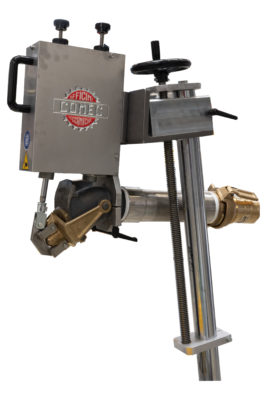 Minimization of ready-made products stock
Great accuracy and dosing repeatability
Extremely quick and easy cleaning
Aluminum plate housing a double-acting pneumatic piston with protective casing
Steel frame painted with epoxy cycle
Weight dosing station with machined cast aluminum head
Piston travel regulation system
Electrical or mechanical scale
Two-stage shut-off dispensing valve for roughing and finishing: Mushroom, Guillotine or Perfect (2 or 3 inches)
Quick coupling on Perfect tap
AISI 304 stainless steel straight roller conveyor for cans and pails transportation
Batching start pedal
Control board for dosing management composed by a painted metal sheet electrical panel with cycle start button, valve opening button, emergency closure button and weight indicator
Also available in ATEX version

Accumulation hopper
Level control with float in AISI 304 stainless steel (in the presence of an accumulation hopper)
Anti-splash and anti-drop system
Stamping machine
Stapling pliers for closing the lid with wings