Automatic filling machine
Rapida is an automatic gravimetric filling machine used for small tins of water and solvent based products from 5 to 40 kg packaging. Equipped with a bearing structure based on a single advancing step-by-step line to the different stations, it is a flexible packaging system that can be adapted to customer needs.
It can deliver up to 6 units/min.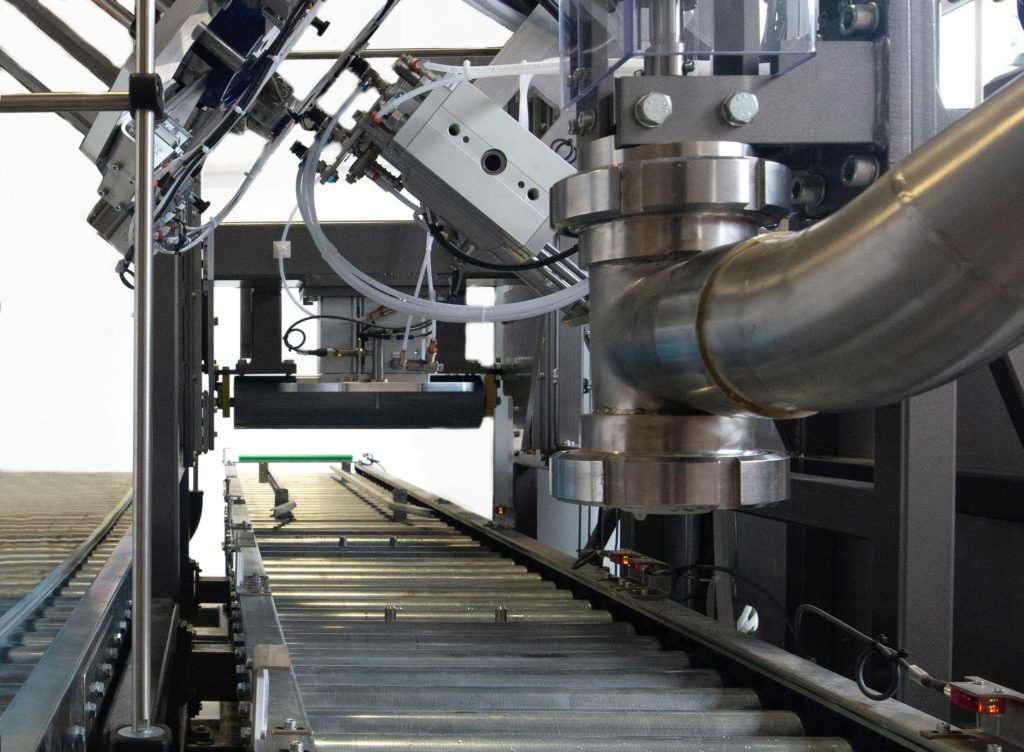 Time and labor savings thanks to the automation of the packaging process
Increase in packaging speed and number of packages in a working day
Significantly reduced risk of contamination by external agents
Extremely quick and easy cleaning
Significant reduction in the risk of accidents
Minimization of stocks of ready-made products
Great accuracy and dosing repeatability
Painted and welded tubular steel base equipped with stabilizing height-adjustable feet and mounted on rotating wheels
AISI 304 stainless steel vessel sliding base
Aluminum plate housing double-acting pneumatic piston with protective casing
Carbon steel coated with epoxy paint protection grille
Empty feeding system by belt with electric motor, complete with vessel displacement arm synchronized with line advancement
Piston stroke adjustment system
Automatic feeding system for empty containers
Automatic stacking device suitable for metal and plastic lids equipped with a 45° tilted self-centering tank, movements on guides with ball bearings
Electrical or mechanical scale
Two-stage shut-off dispensing valve for roughing and finishing
AISI 304 stainless steel straight roller conveyor for vessel transportation
Control board for dosing management composed by a painted metal sheet electrical panel with cycle start button, valve opening button, emergency closure button and weight indicator
Also available in ATEX version
Accumulation hopper
Level control with float in AISI 304 stainless steel (in the presence of an accumulation hopper)
Anti-splash and anti-drop system
Stamping machine
Second dispensing valve
Automatic destacker for plastic or metal lids
Painted electro-welded steel conveyor that connects the outlet from the packaging line to the labeling phase
Label applicator on the cylindrical surface of the can
Palletizing cell