Wall-mounted agitators-dispersers
Energix ADM agitators-dissolvers are sturdy and easy to maintain machines fixed to the wall, suitable for mixing low density and low viscosity paints and coatings.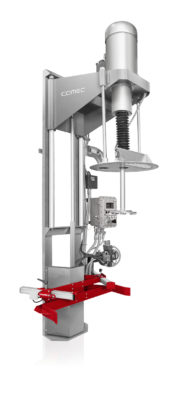 Wall-mounted structure made of carbon steel with anti-vibration stabilizer reinforcements
Electro-welded steel head mounted on ground and chromed guide rods
Hydraulic lifting unit with electric pump embedded in the command group
AISI 304 stainless steel mixing shaft
Ascent stop with mechanical stop and safety device with adjustable valve
Lenard-type turbine impeller or AISI 304 stainless steel Cowles-type notched dispersion impeller
Height-adjustable impeller with head gliding during mixing
Vessel locking systems

Fast clamping: characterized by easy entering of the vessel, fast locking and high resistance to lateral loads. Manual locking clamps with safety micro-contact for machine start only when the container is blocked
Adjustable belt: characterized by a support with adjustable saddles and tensining ratchet. Possibility of fixing containers with different diameters
Double centering arm: characterized by fork opening of the arms with automatic centering of the vessel under the dispersion impeller while the support saddles facilitate the correct positioning of the vessel. The worm screw with increased thread guarantees an easy opening and closing of the locking. High resistance to lateral loads. Possibility of fixing vessels with different diameters. Possibility of motorizing the opening and closing of the locking system

Control panel complete with electric buttons, light lamps, speed variation control and tachometer
Electronic speed variation with inverter
Also available in ATEX version
AISI 304 stainless steel Turbo-type toothed impeller
Motorized lifting group
Temperature control probe
Working cycle timer
4.0 Industry
Configurations
Industry 4.0 configuration is guaranteed by a management software and customer management interface.
For Industry 4.0 Ready installations we provide internal PLC for industrial process control, intuitive operator touch interface and Ethernet connections
For customers choosing Industry 4.0 Optional installation, we provide:
Wi-Fi Operator control panel
Router for remote assistance
Latest generation Misura software which includes Predictive Maintenance indicators, OEE indicators, panel with digital pointers and Software interface with customer Enterprise Resource Planning (ERP) system
F version: Single shaft, equipped with flat lid F for dust and vapor-tight processing
F-G version: Single shaft, equipped with flat lid F for dust and vapor-tight processing with impeller gliding G
Paints, water-based paints, can coatings and inks
Thick coatings, Epoxy products
Glues, putties, sealants, adhesives,..