High-speed single shaft mobile vessel dissolver
Dynamix DC mobile vessel Dispersers are machines for low and medium viscosity products dispersion, engineered and manufactured to work in difficult industrial conditions. Equipped with a high-speed single shaft, also configurable with scraper and in vacuum version, they can meet every production need thanks to a wide range of engines up to 110 kW. This allows to manage products with viscosity from 1,000 Cp up to 300,000 Cp and in batches up to 3,000L.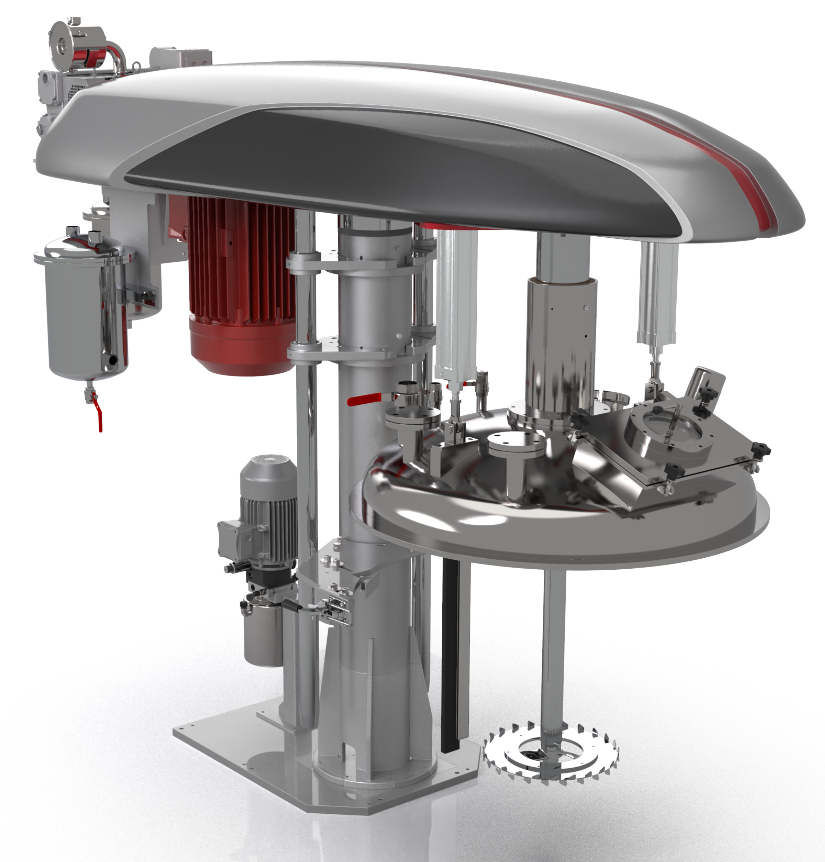 Innovative technology enabling industry 4.0 that optimizes business processes in terms of management time, costs and quality
Continuous process control thanks to internal PLC
Total integration with the production flow and the company ERP
Efficient recipe management, high product repeatability and reduction of production waste
Minimization of breakdowns and unwanted downtime by predictive maintenance indicators
Remote assistance for immediate customer support
Special design allowing for an easy maintenance of the transmission system
Carbon steel supporting structure with anti-vibration reinforcements
Rectified and chromed steel telescopic head holder column
High thickness sheet metal head with anti-vibration reinforcements and pulley protection casings
Transmission by belt and pulleys
Hydraulic lifting unit with electric pump embedded in the command group
Shaft support with high performance ball bearings
AISI 304 stainless steel dispersion shaft
AISI 304 stainless steel Cowles or Turbo type toothed impeller for medium-high viscosity products dispersion
Height-adjustable impeller with head gliding during mixing
Different dust and liquid supply systems integrated in the lid
Vessel locking systems

Fast Clamping: characterized by easy entering of the vessel, fast locking and high resistance to lateral loads. Manual locking clamps with safety micro-contact for machine start only when the container is blocked
Adjustable belt: characterized by a support with adjustable saddles and tensining ratchet. Possibility of fixing containers with different diameters
Double centering arm: characterized by fork opening of the arms with automatic centering of the vessel under the dispersion impeller while the support saddles facilitate the correct positioning of the vessel. The worm screw with increased thread guarantees an easy opening and closing of the locking. High resistance to lateral loads. Possibility of fixing vessels with different diameters. Possibility of motorizing the opening and closing of the locking system

Flat lid for multiple vessel diameters or rounded lid for under-vacuum executions
Electronic speed variation with inverter
Also available in ATEX version
Motorized internal scraper with opposite movement compared to the dispersion impeller, which can keep the vessel wall constantly clean, conveying the product to the central area even during the disareation phases
Safety clamps for under-vacuum executions
Lifting column with external fairing
Vessel with cavities for cooling and with external insulation for heating
Reinforced extruder-ready vessel
Truncated cone-shaped vessel with reduced capacity
Servo-ventilated engine for main engine forced cooling
Product temperature sensor integrated into the shaft
Level sensor (Encoder)
Foam sensor
Safety pressure switch
Work cycle timer
Butterfly and ball valves for raw materials loading
Cup impeller, replacing Cowles impeller, in case of high viscosity and density products with quartz and sand
Integrated weighing platofrm system through base with load cells
Washing system (only in case of a rounded lid with lid-container locking clamps) by rotating heads fixed on the lid or a motorized immersion lance with rotating washing heads
4.0 Industry
Configurations
Industry 4.0 configuration is guaranteed by a management software and customer management interface.
For Industry 4.0 Ready installations we provide internal PLC for industrial process control, intuitive operator touch interface and Ethernet connections
For customers choosing Industry 4.0 Optional installation, we provide:
Wi-Fi Operator control panel
Router for remote assistance
Latest generation Misura software which includes Predictive Maintenance indicators, OEE indicators, panel with digital pointers and Software interface with customer Enterprise Resource Planning (ERP) system
F version: Single shaft, equipped with a height-adjustable lid G for dust and vapor-tight processing
RI version: Single shaft with an internal motorized scraper RI, equipped with a height-adjustable lid G for dust and vapor-tight processing
SV version: Single shaft, equipped with a height-adjustable rounded lid G for vacuum sealing SV
RI SV version: Single shaft with an internal motorized scraper RI, equipped with a height-adjustable rounded lid G for vacuum sealing SV
Paints, water-based paints, can coatings and inks
Thick coatings, Epoxy products
Glues, putties, sealants, adhesives,..