From virtual to real factory with Qoncept Engineering
Smart solutions, feasibility studies and flow analysis integrating with new production technologies to improve working conditions, create new business models, increase productivity and quality in plant production, designing an Innovative Factory.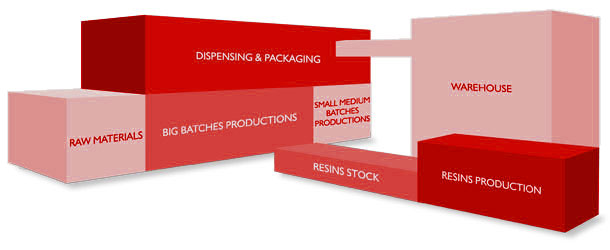 Our Engineering Expertise comes from long experience of closely working with paint manufacturers and retailers. The new century paintmakers ask for lean manufacturing and short production lead time.
Dromont and Comec first analyze your market and then define your plant KPI – Key Performance Indicators. We provide you with cutting edge technologies.
Less cost of ownership
Reduction of capital investment
Production costs reduction
Stock reduction
Waste reduction
Increase in Company revenues
Comec's product portfolio includes concept engineering, powder transport and weighing systems, mixers and dissolvers, vertical and basket mills, filling lines and palletizers.

Virtual Factory Engineering
Business model analysis
Project charter
Project & site classification
Process Control & Operation Management
Process Optimization: Energy & Wastes and Logistic
Dynamic Modelling and Detail Engineering
Education Strategy & Risk Assessment
Function, cost & Risk Analysis
Commissioning & Start-up
Constructability