CONCEPT ENGINEERING & SOFTWARE AUTOMATION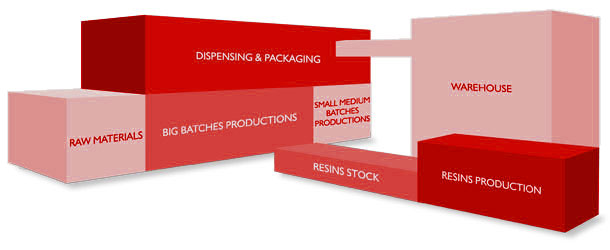 The new century paintmakers ask for lean manufacturing and short production lead time.
Dromont and Comec first analyze your market and then define your plant KPI – Key Performance Indicators. We provide you with cutting edge technologies.
Comec's product portfolio includes concept engineering, powder transport and weighing systems, mixers and dissolvers, vertical and basket mills, filling lines and palletizers.

VIRTUAL FACTORY ENGINEERING
Business model analysis
Project charter
Project & site classification
Process Control & Operation Management
Process Optimization: Energy & Wastes and Logistic
Dynamic Modeling & detail Engineering
Education Strategy & Risk Assessment
Function, cost & Risk Analysis
Commissioning & Start-up
Constructability
Reduction of capital investiment
In house software department consists of internal programming engineers working on updating our software platform to the latest innovations as well as integrating our machines into the customer's Enterprise Resource Planning.
These features include: integrated lab & batch processing, remote diagnosis & support, system architecture, multiple PLC programming, baseline and advanced automation and complete plant process control.