KYNESIS
IN-LINE DISSOLVER
High-tech dispersing
Born to increase efficiency and fastness when making a powder slurry, our revolutionary high speed dispersing technology works according to the rotor-stator-principle.
The continuous in-line dispersion, thanks to its combined effect of different particle reduction, achieved a high shear gradient and a very fine distribution of solid particles (suspensions) and liquids (emulsions).
This innovative system is simple to install and offers an easy integration into the existing process and a large range of applications thanks to frequency inverter.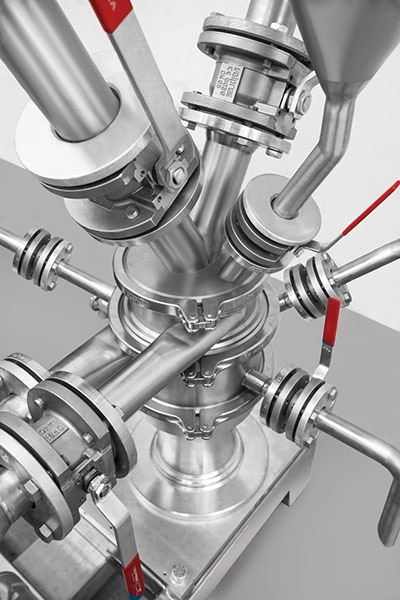 ————————– 
PRODUCT INFORMATION
60% energy saving compared to a traditional rotor-dynamic pump
High flexibility and versatility to cover a wide range of products, viscosities and densities
Single shaft operates the movement of the Cowles and the grinding impeller equipped with ceramic mechanical seal
Up to 75/80 % of dry components can be run through the machine (or can be added to the liquid part)
Easy cleaning of the dispersing chamber with much reduced time for batch changing _ 90% cleaning agent reduction compared to a traditional disperser
Reduced cost of waste recycling-disposal
Manufactures in stainless steel AISI 304 highest quality
————————– 
KYNESIS: SUCCESS STORIES
Case history: US Customer
"Thanks to Kynesis we replaced 4 traditional dissolvers and today we deliver paint to as much as 24 letdown tanks, just with one Kynesis only.
We avoided expensive mezzanine platforms and we kept everything at floor level.
We highly reduced our maintenance costs because Kynesis needs only few minutes per months. No need to enter into tanks to replace the cowles blade. And one rotor-stator gear lasts as much ad 9-10000 tons of grind paste.
Case history: European Customer
We work with a 45 KW Kynesis for high solid epoxy resins. The efficiency compared to traditional dissolvers is much higher.
The machine allows to get a very homogeneous mass that avoid filtering. Since its speed allows much higher throughput we have decided to install one unit connected to two existing mixers.